Physics 407 Exam #2
Closed book.  Do all questions. 
Use g = 10 m/s2 in all questions & problems. 
Part I.  Do all 8 questions. 5 pts each
1.)  The basic units of kinetic energy are:
kg m/s
kg m2/s
kg m/s2
kg m2/s2                                                           
2.) The tension in the (ideal) string joining m1 and 2 is:

1 N
2 N
3 N
5 N
3.) What is the acceleration of the (m1 + m2) system?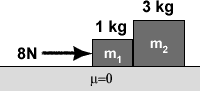 2 m/s2
4m/s2
4m/s2
8m/s2
4.)  In question 3.) what is the force that m2 exerts on m1?
2 N to right
2 N to left
6 N to right
6 N to left
5.)  A paper coffee filter of mass 0.001 kg falls in air with a constant downward speed of 0.02 m/s.  The force the air exerts on the filter is:
0.01 N down
0.01N up
0.2 N up
0.2 N down
  6.)  A mass m =1 kg on an ideal string of length r =4m moves in a horizontal circle.  The tension of the string is:

  v = 2 m/s                                      
1 N inward
1 N outward
4 N inward
4 N outward                                 
7.)  A fan cart of mass 2 kg accelerates from 1 m/s to 3 m/s over a distance of 4 m in exactly 2.0s.  Neglect friction.  The average power generated by the fan engine is:
0.2 w
0.4 w
2 w
4 w
8.)  If it takes 2 Nm of work to compress an ideal spring 3.0 m, how much work is required to compress it 6.0 m?
4 N m
6 Nm
8 N m
10 Nm                              
Part II.  Do both problems.  30 pts each.  Label your answer. Write complete equations. 
SHOW ALL YOUR WORK.
1.) Starting with Newton's laws, in terms of m1, m2, g and mk carefully derive an algebraic expression for: (Simplify your final expressions.)
the accerleration a (15)
the tension T (15)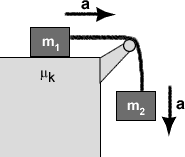 2.) A 1000 kg rocket accelerates from vI = 10 m/s to vf = 30 m/s over a horizontal distance of d = 50 m in a straight line.  The rocket mass is approximately constant.
Calculate:
the total work done on the rocket neglecting air friction. (10)
the average force of the rocket engine neglecting air friction. (10)
the same rocket in air now accelerates from vI = 10 m/s vf = 20 m/s over the same distance.  Calculate the average force of air friction on the rocket.(10)