Part  I. ____
Part II. 1. ____
2. ____
Total: ____
Physics 407 Exam #4
Closed book.  Do all questions.                 
Part I.  Do all 8 questions. 5 pts each
1.)  The units of angular acceleration are:
pure no.
s-1
s-2
m/s2                                              
2.)  A thin metal hoop of mass M and radius R rolls without slipping with an angular speed

and a center of mass speed vCoM. The total kinetic energy of the hoop is: (hint:

 = vCoM/R)

3.)  The rotational inertia I of the system shown below is:                         

2 m L2
m L2
 m L2
  m L2  

(massless rod)   
4.)  The total torque in Nm on the 1 m rod about an axis through the center of mass is:

3
-3
7
- 7
               5.)  A thin metal hoop and a solid cylinder have the same angular speed

, the same mass M, and the same radius R.  The ratio of the cylinder's kinetic energy to the hoop's kinetic energy is:                                                                                                                  
1/4
1/2
1
2  
6.)  A solid rigid cylinder of radius R rotates with a constant angular speed

 about an axis through its center and out of the paper.  Point #1 is R/3 out from the center and point #2 is on the rim. 
The ratio (v2/v1) of the tangential speed v2 of point #2 to the tangential speed v1 of point #1 is:
1
2
3
1/3
 7.)  Referring to the cylinder of question 6 above, if

 is increasing, both points #1 and #2 have the same:                       
 only
v only
 only
 and
 and v
8.)  The wheel of mass M and radius R is accelerating as shown because of the hanging mass m.  The friction at the wheel's fixed axis of rotation is zero.
The torque acting on the wheel is:
mgR clockwise
TR clockwise
mgR counter-clockwise
TR counter-clockwise
Part II.  Do both problems.  30 pts each.  Be neat.  Write complete equations.  You must show absolutely all your work to receive full credit.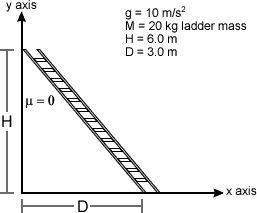 1.)  A uniform ladder leans against a vertical frictionless wall. There is friction on the floor. 
Carefully draw all the external forces on the ladder on the picture to the right. (10 points)
Calculate the vector force FB of the ground on the base of the ladder. (15 points)
Carefully sketch the vector force FB on the picture below. (5 points)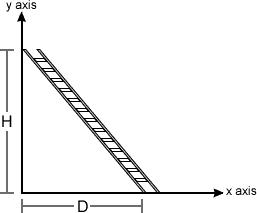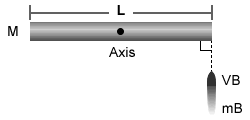 2.)  A uniform thin rod of length L and mass M can rotate in a horizontal plane about a vertical axis through its center.  The rod is at rest when a bullet of mass mB, traveling in the horizontal plane of the rod, is fired into the end of the rod.  The bullet lodges in the rod and the rod and bullet then rotate counterclockwise with an angular speed

.
State the conservation law that applies to the bullet-rod system in this case. (5 points)
Which conservation law does not apply to the bullet-rod system in this case? (5 points)
Write down the equation that you gain from the conservation law in a) in terms of L, M, mB,  and vB. Explain what you are doing.  Hint: Note that some quantities change from the initial time (when the bullet flies) to the final situation. (10 points)
Derive an algebraic expression for the bullet speed vB in terms of mB, M, L and  from c).  Write down all your steps.  Simplify your answer. (10 points)