Kids' Space
for SEPICA at UNH
Fun Stuff: Brand-Spanking New!
Java Applet games are here! For your enjoyment, we are pleased to offer the following games:
Please note: You must have a Java-enabled browser to play these games, preferably Version 4 of either Netscape or MSIE.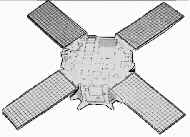 Please Note: This model is intended for children aged 4 and up, and those who have not had much experience building paper models.
Its finished size is 5 cm tall by 20 cm wide, and takes about an hour (or less) to assemble.
Please Note: This model is highly detailed, with some pieces that are very small, and should be assembled by intermediate to advanced builders.

Its finished size is about 15 cm tall by 60 cm wide (with the MAG booms) or 30 cm (without MAG booms). It takes between 4 and 8 hours to build
Coming Soon:
A 1/4 Scale Model of the SEPICA Instrument;
If you enjoy building paper models, also check out:
Science Kit's online free model page
NASA's Spacelink site, which has links to different kinds of models (not just paper)
Space Art's Planetary Icosohedrons -- print out and build photographic models of our planetary (and lunar) neighbors!
---
Also be sure to check out the Interstellar Learning Page to find out more about what SEPICA and ACE are studying.
You can also have a look at webpages designed by area high school students who worked with UNH scientists in the summer of 1997!