---
High Resolution Study of Auroras on the Fly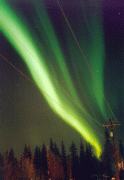 Auroras are seen as thin walls of light over the polar regions of the Earth. The beauty and variety of their display have inspired and intrigued mankind for thousands of years as to what their lights are made of. Early explanations featured phenomena, such as flames in the sky, reflections of sunlight, or battles between divine armies. Only in this century have we learned that aurora are intimately connected with the Earth's magnetic field and its interaction with the solar wind, a continuous but variable supersonic flow of particles from the Sun.
This interplay works like a giant electric generator which produces high electric fields and strong currents. In the course of these events, ions and electrons are accelerated to high energies. Energetic electrons, guided by the magnetic field, bombard the upper layers of the Earth's atmosphere. Similar to what happens on a TV screen these electrons produce a colored display in the night sky, when they excite molecules in the air.
(Schematic view of aurora and satellite orbit, 12.5 k Gif)
The sheet-like structure of the auroras which is guided by the Earth's magnetic field is very thin (10 - 100 km), and thus a satellite passes different regions within seconds. Therefore, data have to be taken with extremely high time resolution to resolve the interesting spatial structures.