If you really want to know me better.............
I am a 16-year old from Durham, New Hampshire. I attend Oyster River High School in Durham and I will be in my junior year next year. I play hockey and cross-country for my school, along with playing basketball and other sports for fun, and I am involved with my youth group at my church, Durham Evangelical Church. I love hanging out with my friends, watching TV, going on the computer and doing youth group activities.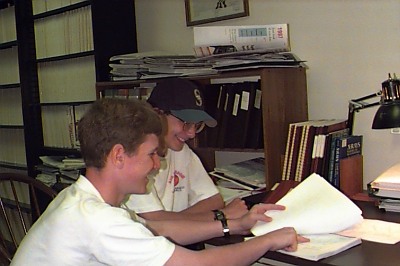 I'm the one in front pointing at a spike on a light curve.
---
When I first heard, from my parents, about Project SMART it didn't seem all that great. Who wants to spend almost a month of their summer vacation studying? However, when I came to the program, it turned out to be a lot better than I thought it would. It was fun and I was able to learn a lot about space science while I was there. The leaders of the program were able to make it fun and educational at the same time.